Ducks Putting on a Show at the Gym Rat Challenge!
June 16, 2022
---
We would like to congratulate our Class of 2028 Boys National Team, our 10th Grade Girls UA Rise Team, and our 11th Grade Girls UA Rise team on making it to the finals of the Gym Rat Challenge in Albany, New York.
The Class of 2028 Boys National Team averaged 9 three-pointers a game and was led by the strong offensive performances by Jake Lofstrom and defensive performances by Colt Wardwell and Leon Jean Louis. In the semi finals, Lofstrom knocked down 6 three-pointers in the first half. Wardwell and Louis were jumping the passing lanes all weekend long helping defeat opponents from CT, NY and, MA. The boys made it to the Finals and finished in 2nd place out of 16 teams competing. The future is bright for these boys!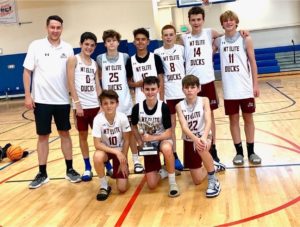 On the girls side, there were 56 11th grade teams in the Gym Rat College Showcase. Of those 56, Ducks 11th Grade Plasma and 10th Grade Diamond (playing up) showed why the Ducks can go toe to toe with anyone.
Ducks UA Rise Plasma finished runner up in the Silver Bracket losing in the finals 54-48 to the Maine Firecrackers in a back and forth showdown which contained 17 lead changes.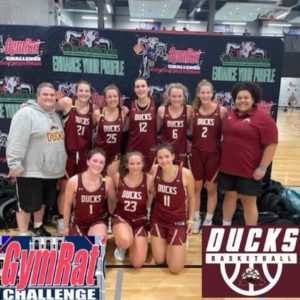 Ducks 10th Grade UA Rise Diamond also showed up playing up in the 11th Grade Bracket and winning their pool, earning the #1 seed in the Gold bracket. 10th Grade Diamond fell in the semi-finals of the 11th Grade Gold Bracket to a talented 11th Grade NY Havoc UA Rise team. Overall, both Ducks UA Rise teams played great team basketball on both ends of the court and are poised for a breakout summer.